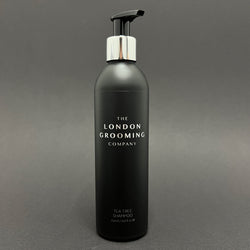 RedLightBarbers
Tea Tree Shampoo - The London Grooming Company
The London Grooming Company's Tea Tree Shampoo is for all hair types especially sensitive scalps and dry skin. The Tea Tree Essential Oil effectively treats dandruff, dry scalps and unclogs hair follicles to refresh and invigorate the scalp. 
Sulphate Free and Not Tested On Animals 
Directions for use: Apply a small amount to wet hair and massage the scalp. Rinse thoroughly.
Top Tip: For an intensive refreshing treatment, leave in the hair for 30 seconds before rinsing.
Fragrance: Eucalyptus & Tea Tree