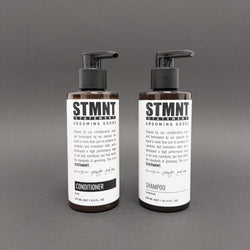 RedLightBarbers
Gift set: STMNT Shampoo+Conditionier
Includes:
STMNT Shampoo 300ml:
Your daily cleanse, just more powerful. 

Powerful formula that removes any product build-up

Creates a clean canvas for any look

Formula with activated charcoal and menthol
Refreshes hair and scalp

Free from sulfates (SLS*) and silicone oils
 Signature scent: fresh citrus and lavender with tonka bean
 *Free from animal derived ingredients.
**sulfate surfactants
STMNT Conditioner 300ml:
For a smooth finish. 

Prepares the hair for cut or styling

Moisturizing formula with activated charcoal for hair and beard

Restores shine and softens the hair surface
Helps to protect against blow-dry damage

With menthol for that extra fresh feeling

Free from silicone oils

 *Free from animal derived ingredients.
 Signature scent: fresh citrus and lavender with tonka bean