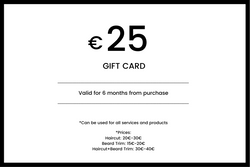 RedLightBarbers
25€ Gift Card
This gift card can be used to pay for services at Red Light Barbers barbershops in Vilnius and Kaunas.
Once you order, you will receive an email with a PDF of the gift card. You can print it or just have it on your mobile device and show it to us upon arrival. 
Terms and conditions:
The gift card can only be used once.
The gift card cannot be exchanged and is not refundable.

Product

 is not shipped and must be redeemed during the visit to the barbershop.

If the gift card is used to purchase products or services at a cost higher than the amount stated in the gift card, the remaining balance can be paid in cash or card.
The gift card is valid for up to 6 months

 

with 6 months extension available on account of the quarantine in the Lithuanian republic.
For more information please contact +370 625 08029 or info@redlightbarbers.com